A zippy, zesty oil-free vegan feta that takes only about 10 minutes of hands-on time to make! It's the ideal topping for salads that is light yet hearty. Elevate your next salad into a meal by simply adding this tofu feta. Bonus: Use the marinade as your salad dressing! This recipe is vegan, oil-free, gluten-free, and so easy.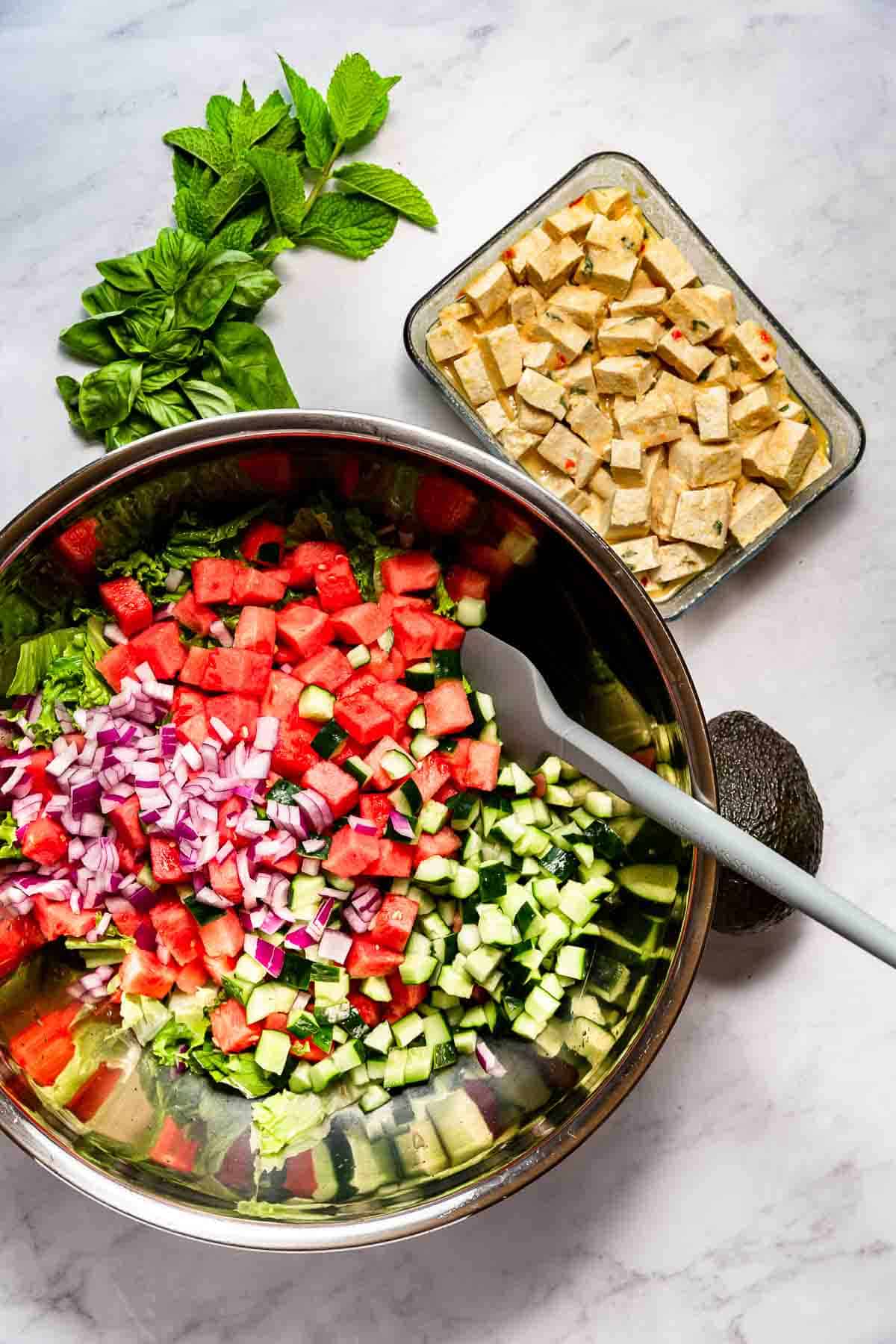 Let's talk tofu! It's such a helpful ingredient in plant-based cooking, loaded with nutrition (yes, including protein!). It's hearty, yet lower in calorie density than avocados or pasta. As a major foodie, I'm always looking for ways to lighten up what I eat, so I love tofu. This easy recipe can help you love it, too!
Jump to:
what you'll love about this tofu feta
I love this recipe so much because it's such an easy way to use tofu. I often get stuck in one mode with extra- or super-firm tofu, often finding that it's getting close to its end date because I haven't yet made the usual tofu scramble with it.
No cooking is required to make this recipe, hooray!
This recipe requires only about 10 minutes of hands-on time. It only involves throwing all the marinade ingredients together and pressing, then slicing the tofu. Easy!
A basic salad becomes a full meal by simply adding tofu feta!
This tofu version of feta provides the zingy zip without the fat that the dairy version contains (as well as many vegan versions). This feta does not taste just like dairy-based feta; it does satisfy the role that feta plays in a salad or other meal for me, though. I get it, it's hard to believe an oil-free vegan feta can even exist, let alone be satisfying. I'm using it constantly these days on my summer salads, though, and believe you'll find it satisfying, too!
ingredients and substitutions
Note: The marinade in this recipe covers about half the tofu when placed in a jar or container. I'm fine with that. I simply give the container a swish/shake once in awhile to distribute the flavors. If you prefer to cover the tofu completely, just double the marinade ingredients (without doubling the tofu). I prefer not to devote so many ingredients by sticking with the recipe as written. By the way, nothing tricky makes this vegan feta oil-free; the combination of ingredients are so satisfying, oil is just not needed.
I prefer super-firm tofu; if you don't have access to it, extra-firm works well, too. If you don't have tofu, or just don't want to use it, try using an equal amount of cooked white beans!
The larger the lemon, the better for this recipe. We're using the zest and juice, and in this case going over the amount required will likely just make it better. If you don't have a large lemon or don't end up with about ⅓ cup juice, use another small-medium lemon to get there. Two medium lemons typically provide about the right amount, too.
Apple cider vinegar brings tang like the lemon does, but with a more fruity note. You could use a white balsamic or try a different vinegar; a fruity light-colored type would work best.
Chickpea-based miso, or other light-colored miso, adds a satisfying umami richness. In a pinch, I would think tahini or cashew, almond, or sunflower butter could work but I've yet to try those. If you do, please let us know how it goes in the comments!
A touch of filtered water smooths out the sharp flavors a bit.
Nutritional yeast adds cheesy flavor to this vegan cheese.
Garlic granules have a lovely roasted garlic flavor without having to chop and eat raw garlic here. If you only have garlic powder, use half the recipe amount.
Salt and red pepper flakes bring balance to the marinade. If you are trying to go salt-free, simply add a touch more lemon juice instead. The red pepper flakes do bring some heat and can be omitted if that's not what you want.
Another optional ingredient is the basil leaf, though I highly recommend using it to bring another lovely level of flavor to the marinade. In fact, add more if you'd like!
instructions
This recipe involves just a few basic steps. Either the order of events listed in the recipe or pictured here will work well: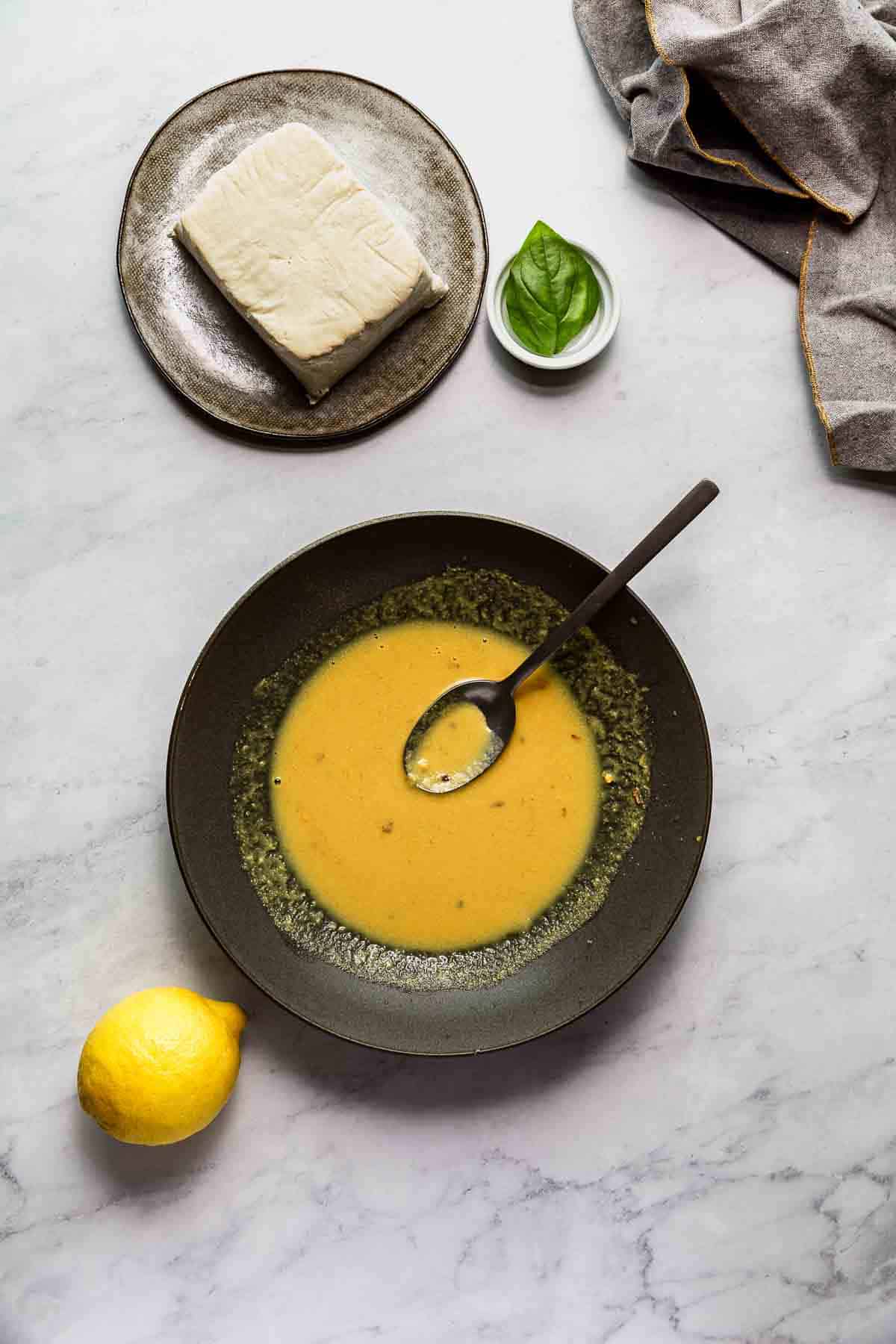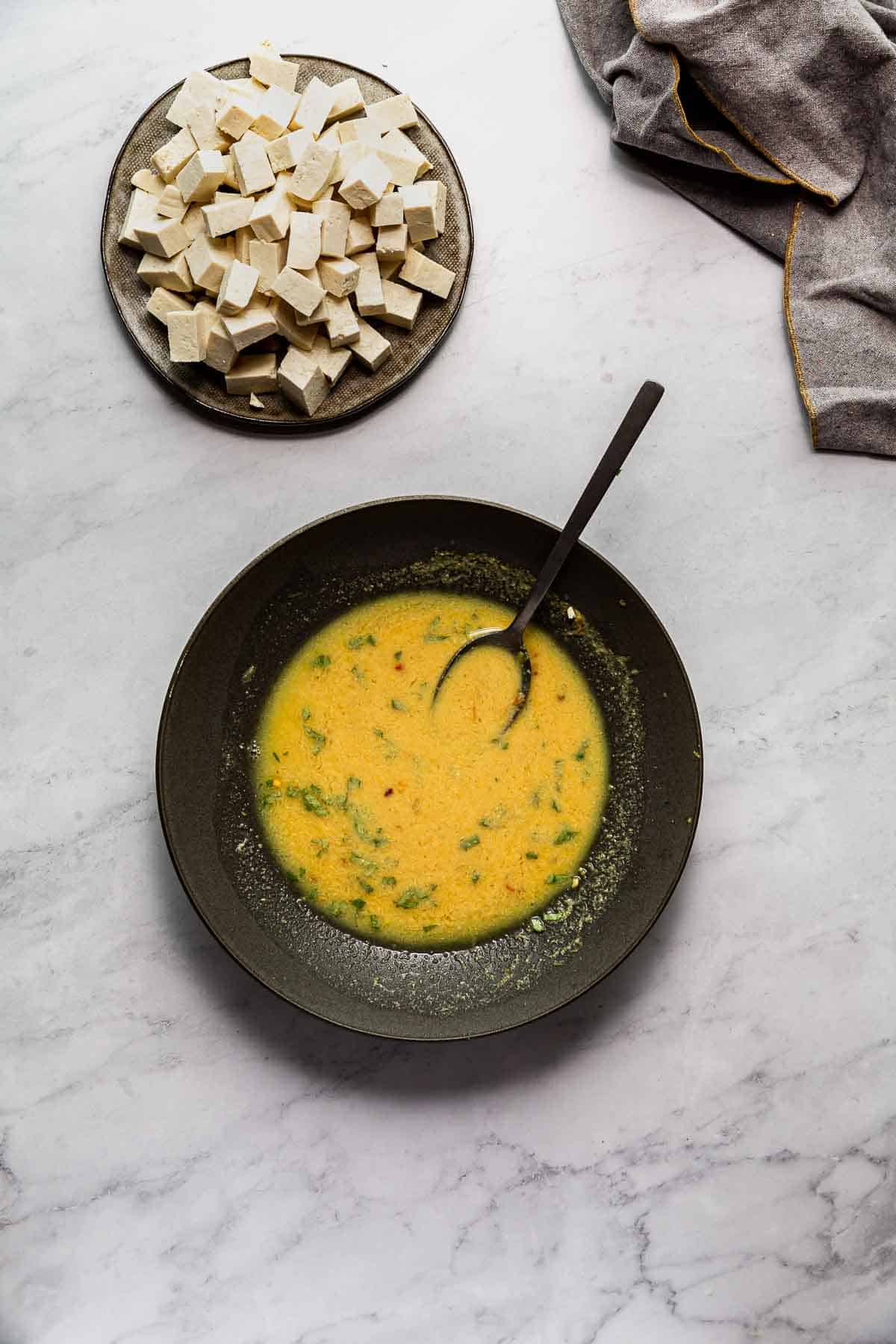 tips for making and using tofu feta
Pressing the tofu: You can use a tofu press, or wrap the tofu in a clean kitchen towel and place something heavy like a pot lid on top. It doesn't need to press long; you can prepare the other ingredients first and then it should be ready.
Cutting the tofu: I like to be lazy, er I mean efficient, and cut the tofu in half horizontally, then into ½-inch pieces in one direction so that they're rectangular instead of squares. You can certainly take it a step further if you'd like and cut them into ½-inch squares, though! Either way, the pieces crumble nicely.
When you can eat it: You can eat this vegan feta right away, after making sure the tofu has been thoroughly coated in the marinade. The flavors are even better once they've had a chance to marinate overnight in the fridge.
How to eat it: Because this vegan feta has such a bright flavor, it works really well with salads that contain sweet fruit as a counterbalance. The marinade works great as the dressing! It's also great on crackers, crumbled and sprinkled over a dish - however you'd like to use feta. Just keep in mind that it won't melt! Fantastic on watermelon salad.
more salad topping ideas
The Recipe
Oil-Free Tofu Feta Recipe
A zippy, zesty oil-free vegan feta that takes only about 10 minutes of hands-on time to make! It's the ideal topping for salads that is light yet hearty. Elevate your next salad into a meal by simply adding this tofu feta! This recipe is vegan, oil-free, gluten-free, and easy.
_______________________________
# of different plants in this recipe: 8
Print
Pin
Rate
Equipment
medium bowl

fridge container

preferably leakproof glass
Ingredients
1

lb

tofu

super or xtra firm

1

lemon

large or 2 small-medium, zest and juice

2

tablespoons

apple cider vinegar

or white balsamic or white wine vinegar

1

tablespoon

miso paste

light colored, like chickpea

1

tablespoon

water

filtered

1

tablespoon

nutritional yeast

1

teaspoon

garlic granules

¼

teaspoon

salt

optional

⅛

teaspoon

red pepper flakes

1

basil leaf

chiffonade/minced
Instructions
Press the tofu (see options in post). Once drained well, chop the tofu into pieces about ½" x ¾" or square bite-sized pieces, depending on your preference. Place the tofu pieces in a leakproof sealable container.

In a medium bowl, add the zest and juice of your lemon. You should have about ⅓ cup of juice. Stir in the remaining ingredients, then pour the marinade over the tofu. Seal the container, shake, then place in the fridge. Give the container a shake occasionally to distribute flavors.

For best results, marinate overnight. I have certainly eaten it as soon as I made it, though, and enjoyed it thoroughly!

Serve over salad, or on anything you'd like the tangy zip of feta, using the marinade as a dressing! Use within about 5 days.
Notes
Nutrition facts are approximate, utilizing a third-party service.
Note: The marinade covers about half the tofu in a jar or other sealed container. By shaking it up now and then, the flavors are certainly there and the tofu remains moist. If you'd prefer to cover all of the tofu, simply double the marinade ingredients.
This recipe was inspired by Nisha of Rainbow Plant Life's Vegan Feta. Nisha is brilliant and creates wonderful recipes, many of which, like her vegan feta, do contain oil. I haven't tried hers, but it looks really delicious! Here, I've created a version with fewer/different ingredients, quantities, etc. and no added oil for a lighter option with a different flavor profile. I hope you enjoy!