Flavorful baked pumpkin donuts are such a fun way to celebrate the fall season. This recipe can be enjoyed as a breakfast or dessert that feels indulgent yet is packed with nutrition. All this tasty goodness while being vegan, gluten-free, oil-free, and refined sugar-free! Plus, just 30 minutes, one bowl, and the plant-based ingredients are all you need to make these delicious donuts (or doughnuts - either way, they're amazing!). This recipe satisfies a whole-food plant-based lifestyle.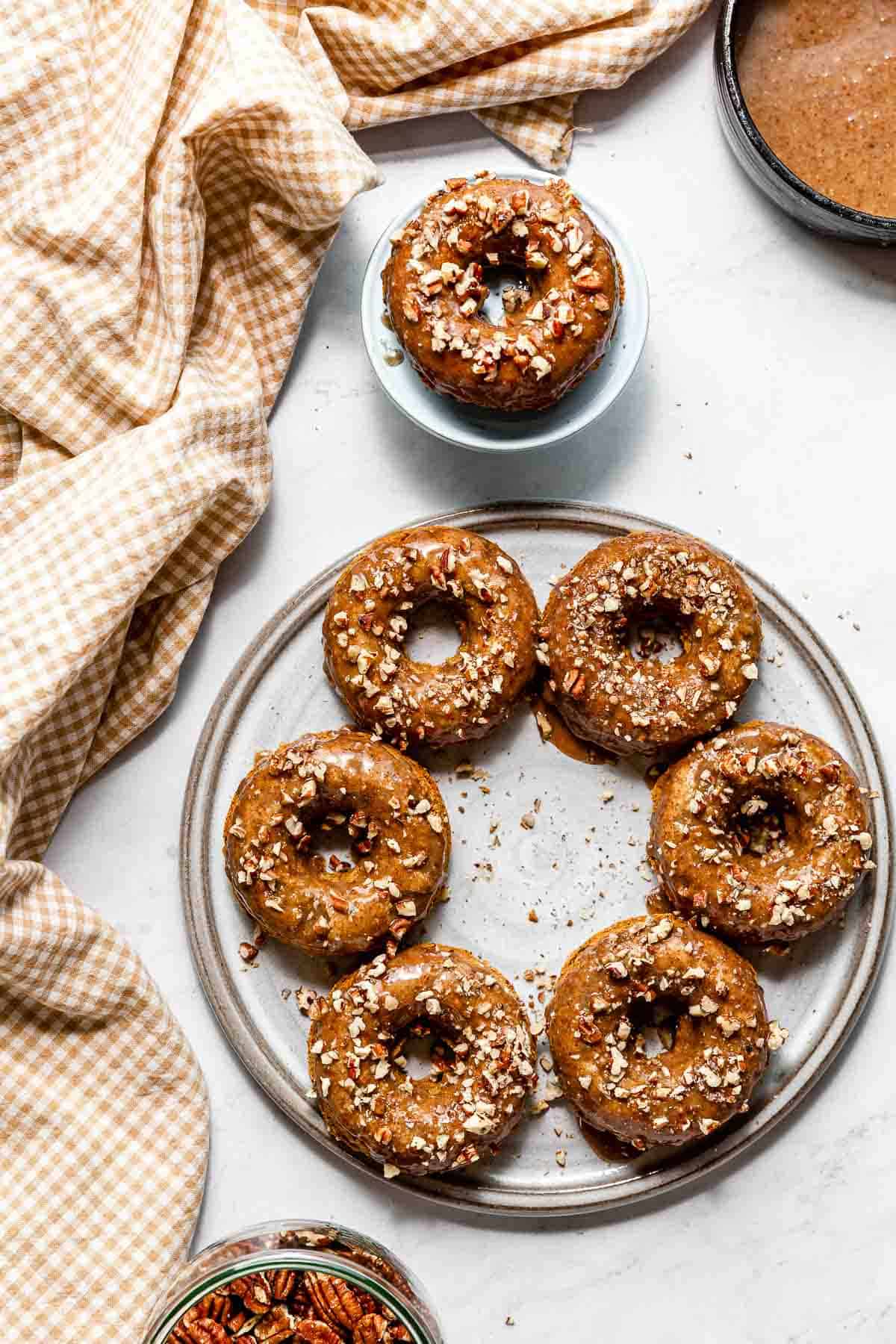 As soon as the air becomes crisp and cool, I am looking for a cozy treat with those lovely pumpkin-spice vibes. I'm talking about that sit-by-the-fire-and-relax kind of feeling that can be experienced in the middle of an office kitchen, thanks to that flavor profile. These pumpkin donuts came about as I was seeking that feeling. Something that could be a treat and an actual real-food choice at the same time - and baked instead of deep-fried. Can we truly have our donut and eat it, too? I knew they could be delicious baked and without refined sugar, but I also wanted to see if I could make them without oil.
How these donuts are oil-free
The first reason why this recipe is oil-free is because these are baked pumpkin donuts instead of the traditional deep-fried donuts.
Donut pans are generally non-stick, but donuts can often still stick once baked. Originally, this recipe used a method of wiping the donut pans with a damp cloth and sprinkling them with vanilla powder to help make them not stick without adding oil.
I've since realized that this isn't necessary. Simply wait for the donuts to fully cool, then gently pull them from the edges and out of the pan. If using a pan that isn't non-stick and this doesn't work, go ahead and try the method mentioned above.
Not only is the new method simpler, it doesn't require an expensive ingredient like vanilla powder!
What I Love About these Donuts
The flavor is fantastic, with a little extra spice. They're the ideal donut for an autumn donut and coffee break.
I have simplified the ingredients so that you don't have to make your own chai or pumpkin spice, so far fewer ingredients.
I really appreciate that they are made with health and nutrition in mind, using whole foods. Plus, they're vegan, gluten-free, refined sugar-free, and oil-free. Sugars and fats come from whole ingredients rather than heavily processed.
It's a recipe that can be made in one bowl and stirred with a spatula, so less clean up - hooray! It's just a matter of stirring the ingredients and then placing the dough in the donut pans. No need to line the pans or anything!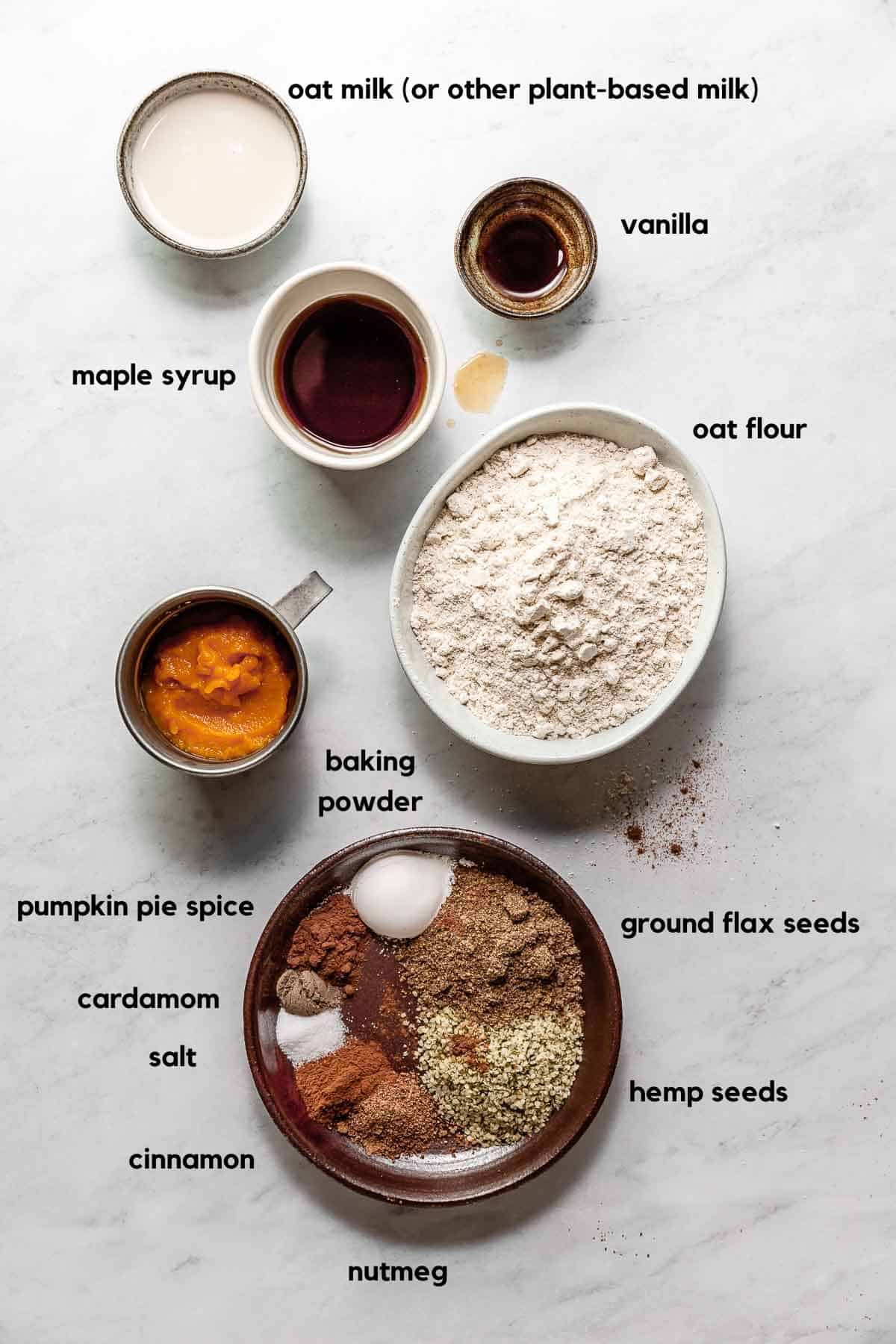 Ingredients and Substitutions
Dry Ingredients
Oat flour is one that most of us can eat, plus it's easy to keep on-hand. If you have rolled oats and a powerful blender, you can make your own! The texture of these donuts is pleasant using oat flour. If you only have wheat flour, that will probably work fine (though I haven't tried it myself).
Ground flax seeds and hemp seeds provide flavor, texture, and nutrition. Only have one of the two? You can still make this recipe by substituting one for the other.
Cinnamon, nutmeg, pumpkin pie spice, and cardamom provide a lovely balance of flavor. I have reworked this recipe so that you can simply use pumpkin pie spice instead of several individual spices.
Baking powder and salt round out the dry ingredients.
Wet Ingredients
Maple syrup is used to sweeten this recipe. If you prefer, you may substitute ¼ cup maple syrup with ⅓ cup applesauce.
Canned pumpkin provides color, texture, flavor, and nutrition. Be sure to use the unflavored version so that the spices don't overpower. You could use homemade puréed pumpkin instead. Tip: If unsure how you'll use the rest of the canned pumpkin, place it in a jar and freeze for future use.
I like the flavor and texture of oat milk for this recipe, but you can use other unsweetened plant-based milk such as soy or rice milk.
Vanilla adds such a delicious flavor! If you don't have any, using a vanilla flavored unsweetened plant-based milk will help.
Instructions
For this recipe, simply combine the dry ingredients in a bowl, then add the wet ingredients and stir until well incorporated.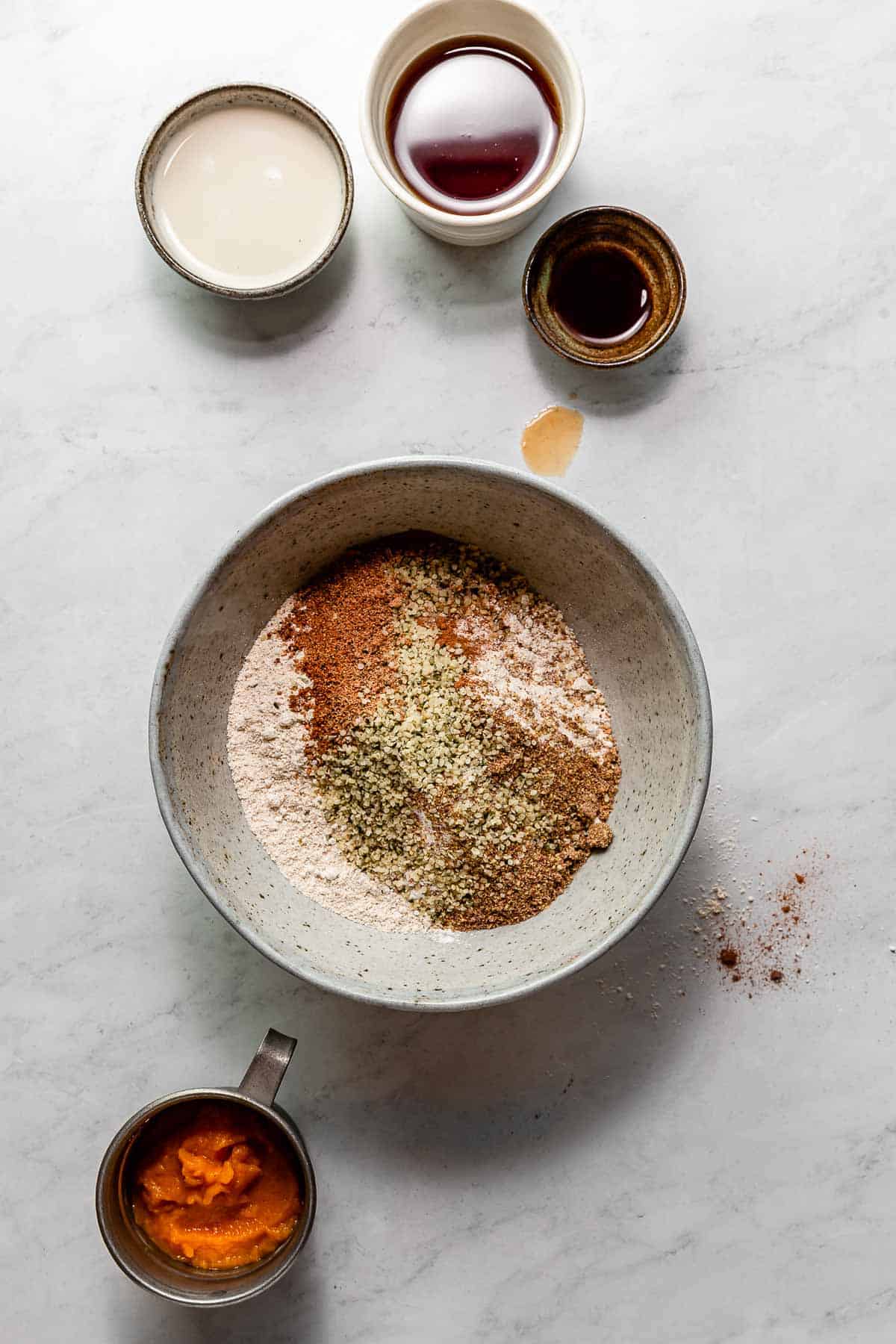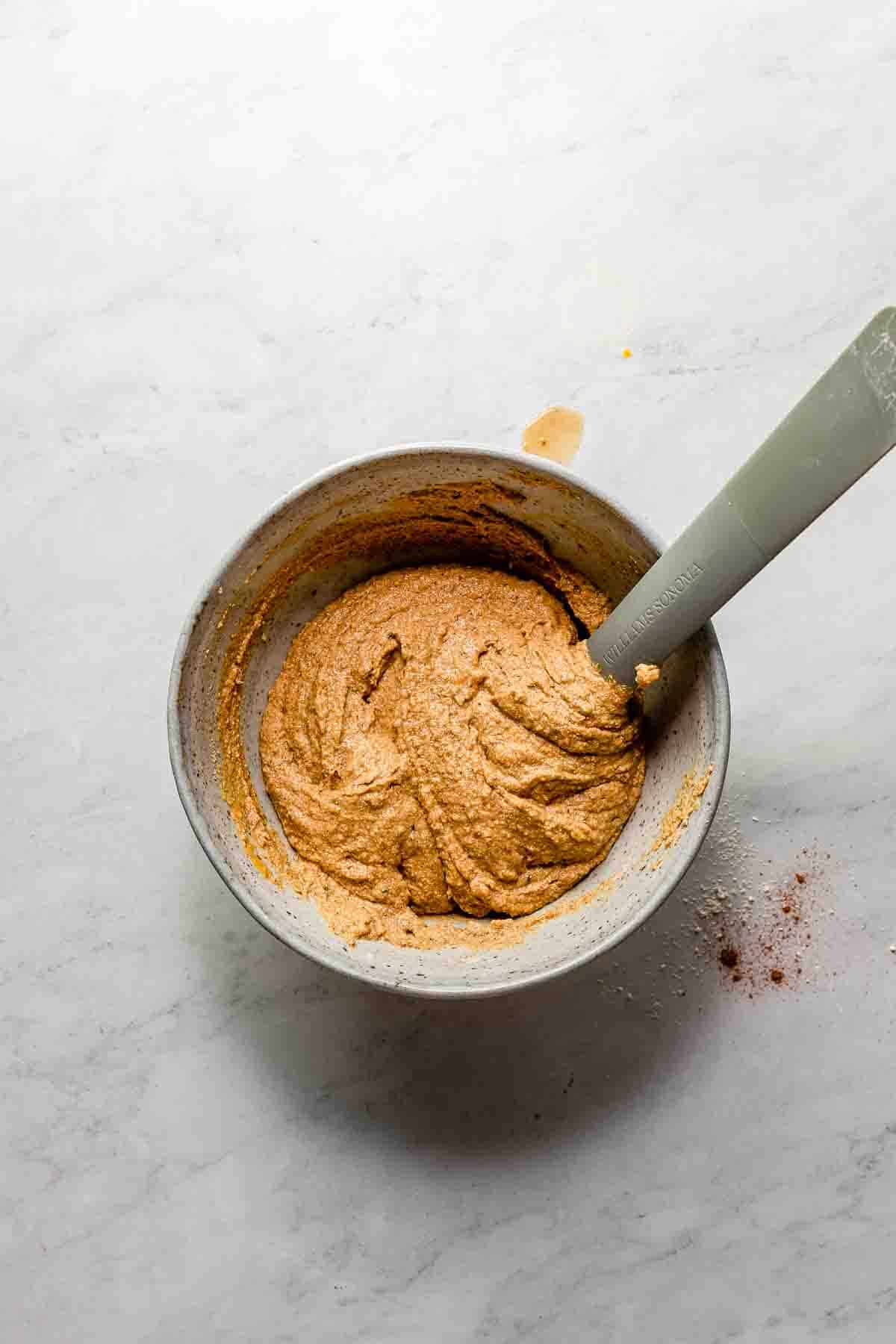 With damp hands or spatula, place the dough in the donut pans, making sure the dough reaches the edges of the donut cavities. Bake until the dough springs back to the touch. Let cool completely before removing the donuts from the pan.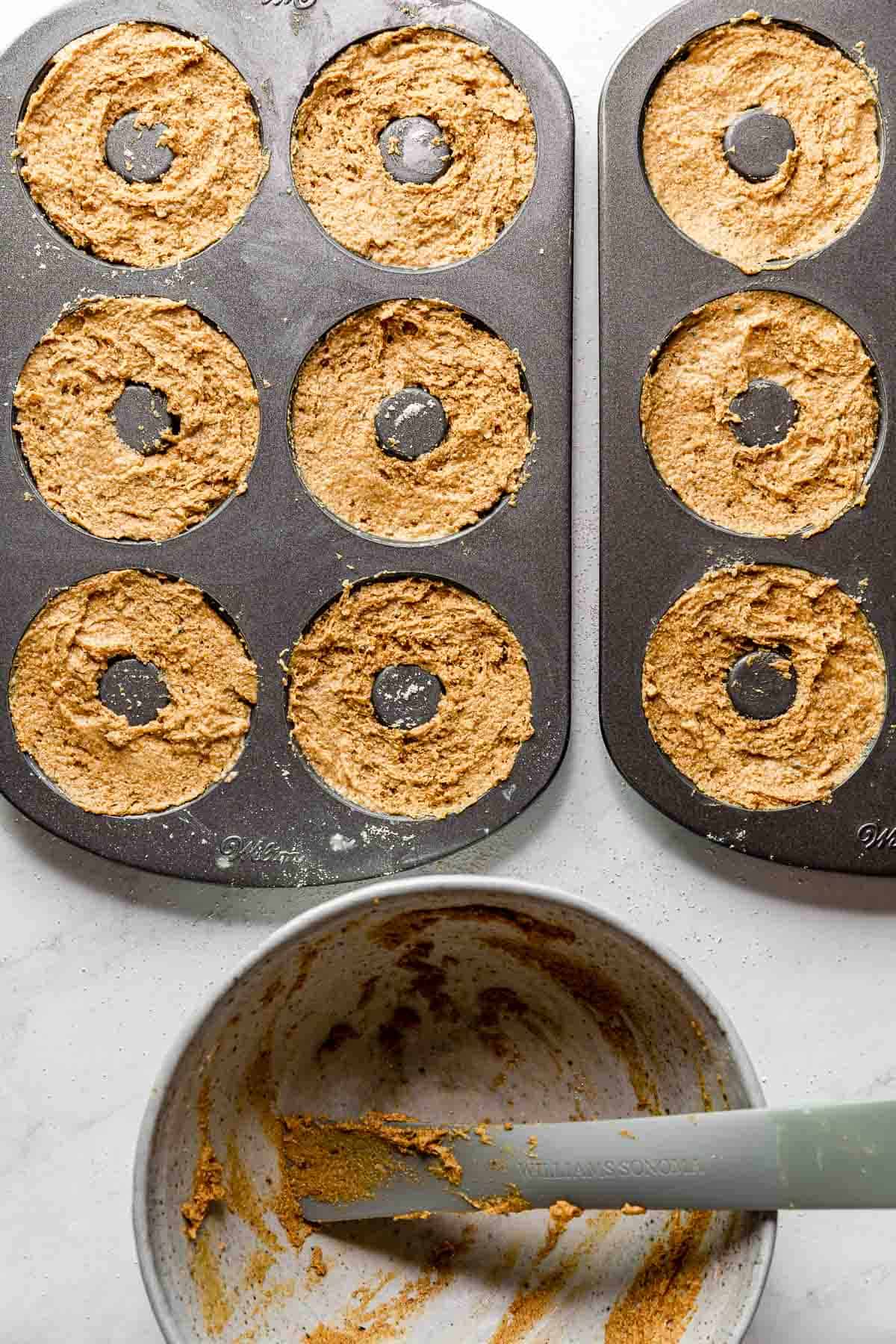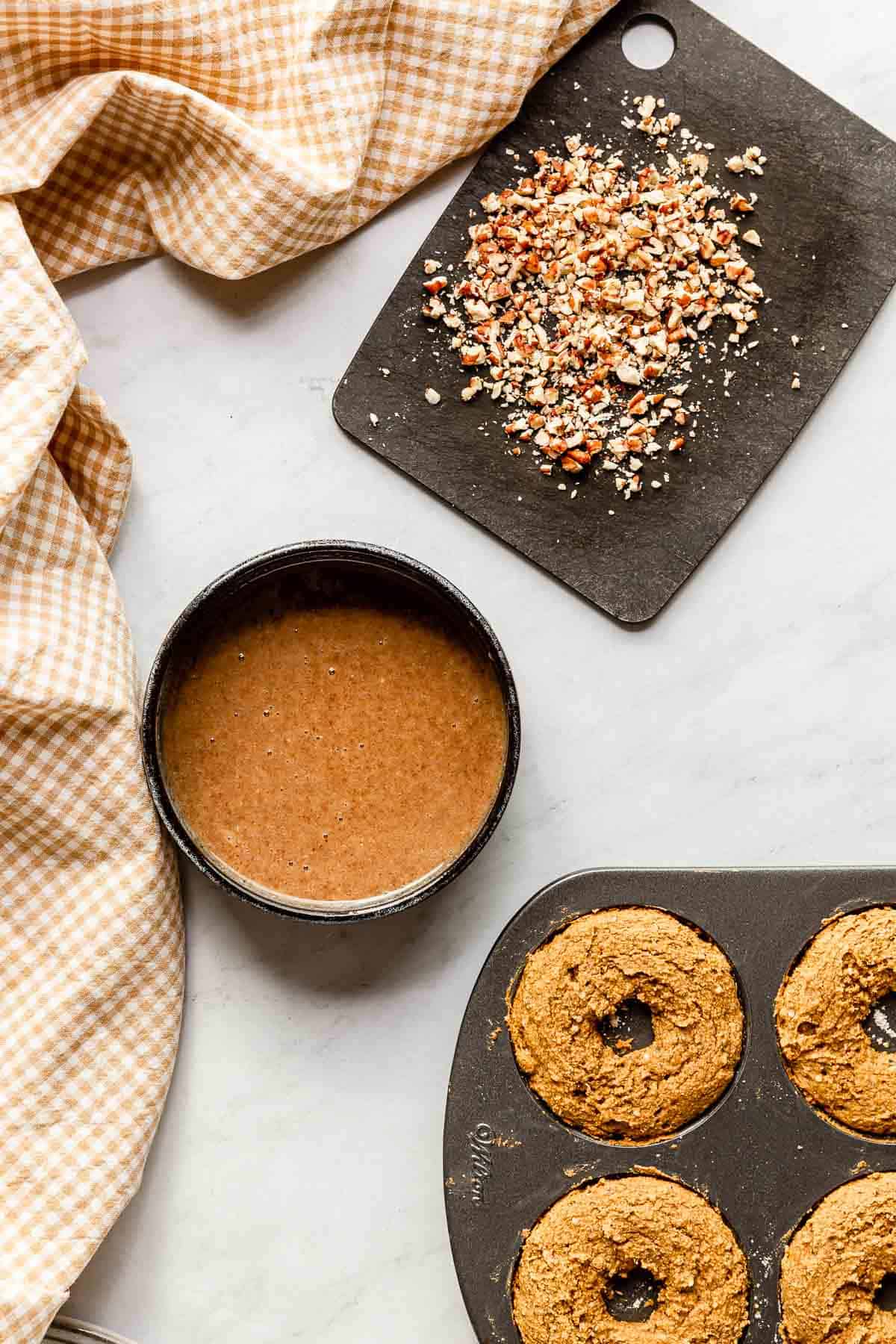 While in the pans, the top of the baked donuts can look a little rough around the edges, but that's ok because this will actually be the bottom of the donut once it leaves the pan.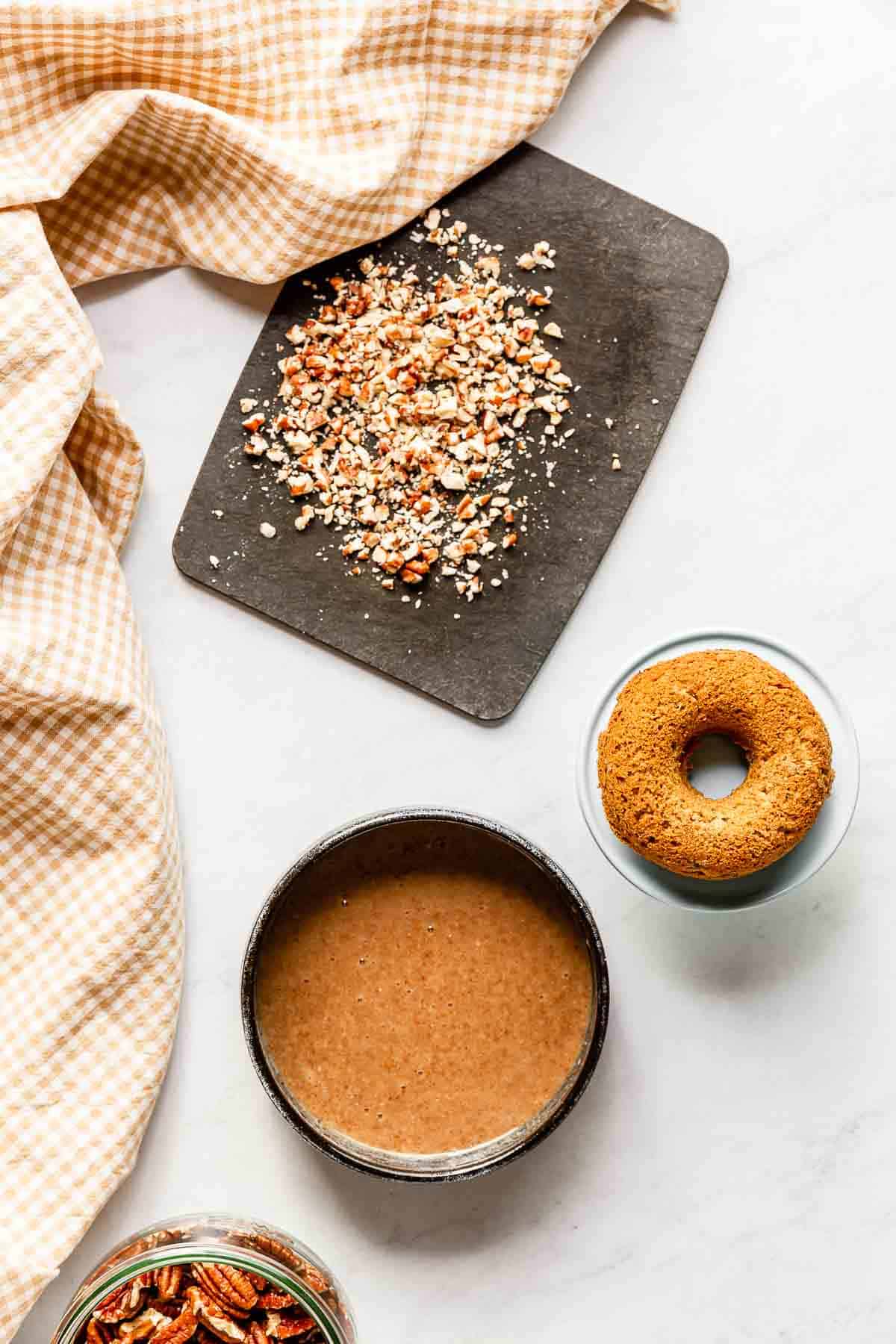 Serving and Storing
Store in the refrigerator for a few days or in the freezer for a few months.
These baked pumpkin donuts are best served with a sauce or glaze to keep them from being too dry. They're wonderful with Five Minute Drizzly Caramel Sauce (I recommend using about half the milk), Raw Vegan Caramel Sauce or Quick and Easy Maple Pecan Sauce and topped with chopped toasted or candied nuts or other sprinkles. Any leftover sauce is great on oatmeal, fruit, yogurt, or ice cream!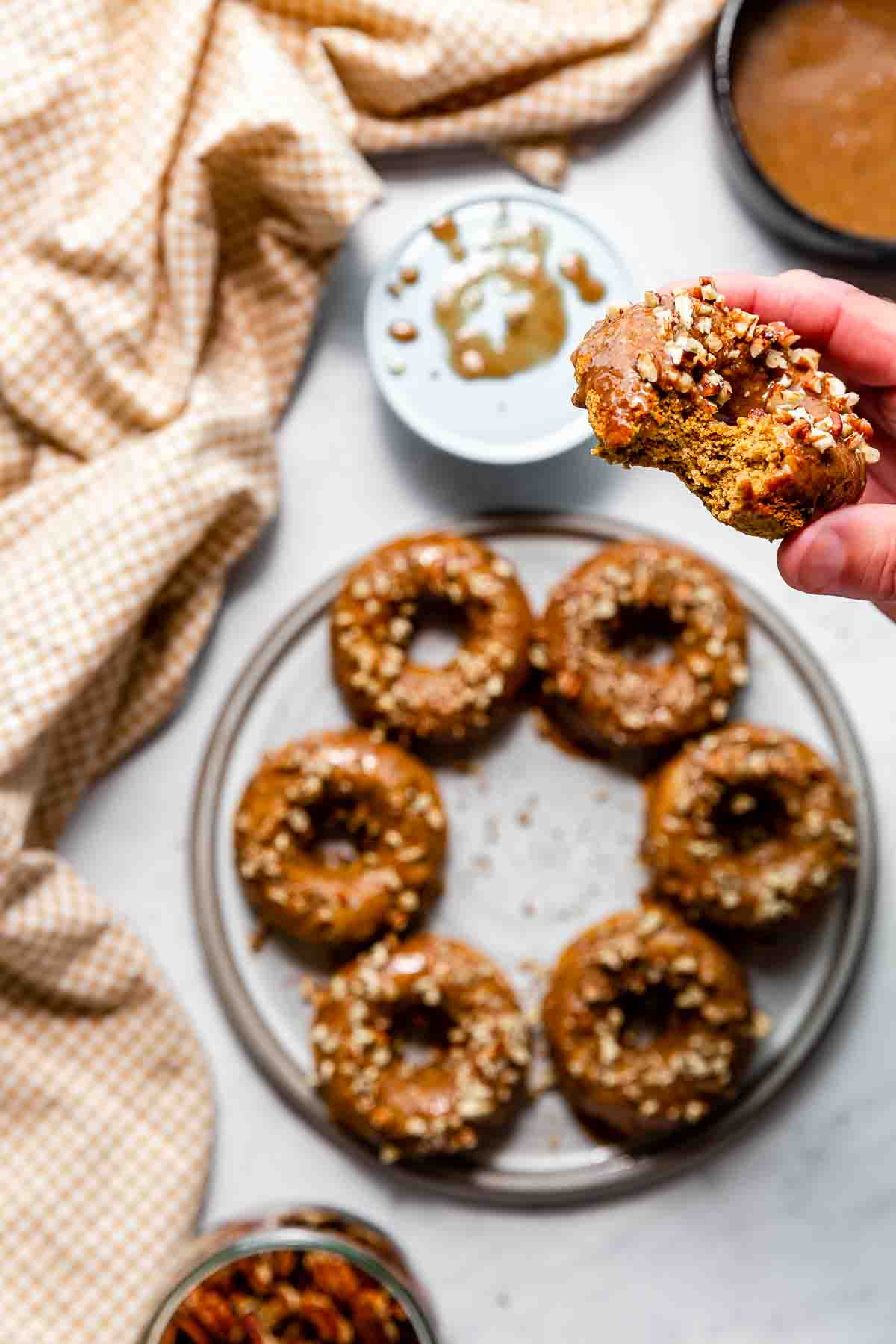 More Autumn Breakfast Recipes
More Autumn Dessert Recipes
Coordinating recipes
The Recipe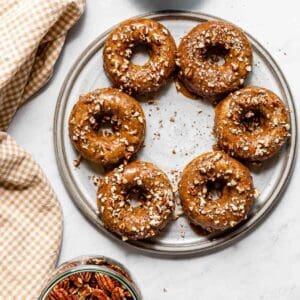 Baked Pumpkin Donuts (vegan, gluten-free, oil-free)
Packed with flavor, this whole food, plant-based recipe for baked donuts is vegan, gluten-free, and oil-free. This one bowl recipe is ready in just 30 minutes!
Print
Pin
Ingredients
Dry Ingredients
2 ½

cups

oat flour

3

tablespoons

flax seeds

ground

2

tablespoons

hemp seeds

1 ½

teaspoons

cinnamon

1 ½

teaspoons

nutmeg

1 ½

teaspoons

pumpkin pie spice

½

teaspoon

cardamom

½

teaspoon

salt

1

tablespoon

baking powder
Wet Ingredients
¾

cup

maple syrup

or ⅓ cup applesauce + ½ cup maple syrup

¾

cup

canned pumpkin

or cooked and puréed, without spices

⅓

cup

oat milk

or other plant-based milk

1

teaspoon

vanilla
Instructions
Set the oven to bake at 325 degrees F.

With a spatula, stir the dry ingredients together in a mixing bowl.

Add the wet ingredients and stir until well combined.

With wet hands or the spatula, place the sticky dough into the donut pans. Make sure to spread the dough to the edges of the donut cavities. Smooth the tops so that the donuts are evenly distributed.

Bake for 20 minutes, or until the donuts are springy to the touch.

Let the donuts completely cool before attempting to remove from the pan to help ensure they don't stick to the pan.

Dunk the donuts into the maple pecan or other sauce/glaze and sprinkle the top with nuts or other sprinkles.

Serve and enjoy (so good with coffee!). Store in a sealed container in the fridge for a few days or in the freezer for up to a few months.